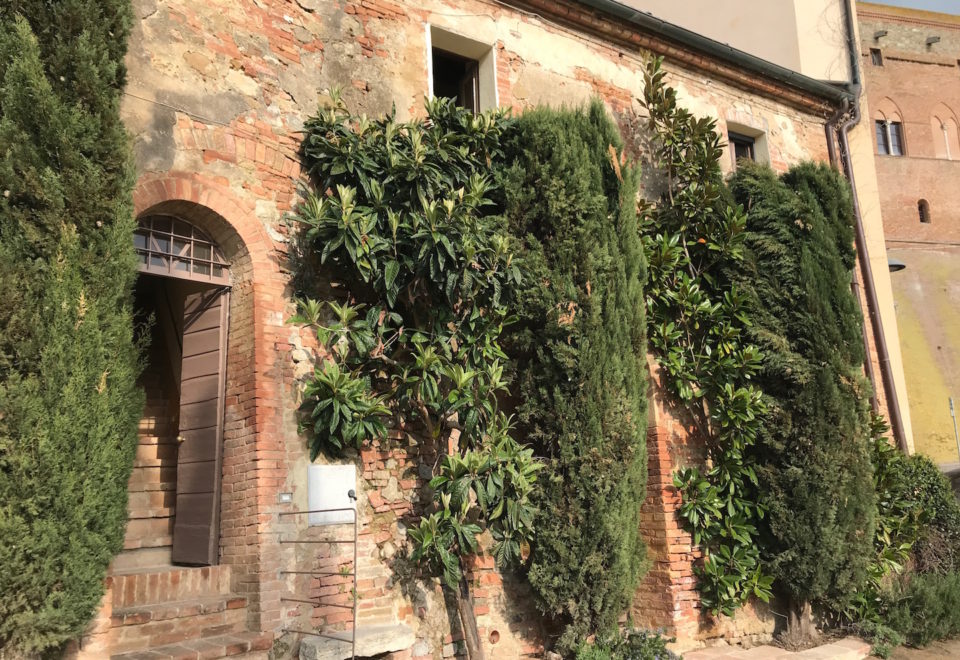 Project Description




























ULIVIERA:  PERIOD TERRACED TOWNHOUSE WITH LOVELY VIEWS IN SAN GIOVANNI D'ASSO, MONTALCINO, SIENA, TUSCANY
APPROX 90 SQMT
OPEN PLAN STUDIO-GUEST ROOM+
FIRST FLOOR ONE BEDROOM  APARTMENT
2 BEDROOMS
2 BATHROOMS
2 RECEPTION ROOMS
PANORAMIC VIEWS
SAN GIOVANNI D'ASSO, MONTALCINO, SIENA, TUSCANY
ENERGY CLASS G (eagle 315,48 kWh/mq*anno)
GUIDE PRICE  € 170.000    REF. P118AM
A freshly decorated medieval townhouse in  the charming village of San Giovanni d'Asso. 45km south-east of the city of Siena, consisting of two independent apartments facing west.
The Stunning original cellars with beautiful arches have been transformed into a guest apartment. It could equally be used as a studio, an office, a show room – or a boutique. First Floor independent  flat, with a bright open space living room with original tuscan fireplace and beautiful views. 'Lock it and leave it' kind of place,  could be easily dedicated to summer leases. Easy parking. Here you can appreciate the deep peace of old Tuscany:  San Giovanni d'Asso is the Tuscan Capital of the White Truffle with its own Museum in the medieval Castle, at the centre of  the wine area with the Brunello of Montalcino, Montepulciano and Chianti are neighbours. Pecorino Cheeses and Olive Oil are other specialities of this region. 
Uliviera is named after the Olive Oil Mill that used to be housed in these buildings for many years. As depicted in a print on the stable wall by artist Ettore Romagnoli in about 1820 was the only cottage by the Castle, possibly built at the same time as the Castle in the 1300s. In 1989 it was bought as a second home by the English author of 'Buying a House in Italy', who has now completely restored the whole building. A short walk down the lane in front of the house will take you to the 'Bosco delle Ragnaie', an inspirational garden created by artist Sheppard Craige from Virginia.
Cypress trees, magnolia grandiflora and loquat clad the west front of the house shielding off the summer heat and giving greenery to the views from the windows.
Great character, particularly charming and romantic atmosphere, beautiful views. 
SITUATION
In a little street under the Castle of San Giovanni d'Asso, a medieval village in the Municipality of Montalcino. Panoramic and spacious bar with newspapers, two excellent restaurants, post office, bank, pharmacy, butcher with his own farm animals, a small supermarket, a hardware- gift shop, weekly market.
Surrounded by the gorgeous countryside between the Valdorcia and Crete Senesi, local country towns all have their own unique character and traditions, worth exploring:  Montisi, Lucignano d'Asso, Asciano, Buonconvento. Pienza, San Quirico, Montefollonico,  Montepulciano...
Particularly attractive are the Truffle Museum in the  medieval Castle, and the incredible,  inspirational vast garden 'Bosco delle Ragnaie', created by artist Sheppard Craige from Virginia.

ACCOMMODATION
Ground Floor: 
Independent Guest apartment or studio with open space living room, kitchen, full bathroom, cellar.
First Floor:
One bedroom apartment: Open space Sitting room  with open fireplace, kitchen & dining area. Double bedroom, full bathroom, utility storage area with a wooden steps up to a habitable attic.

OTHER DETAILS
Central heating is provided by infra-red insulation panels. Brand new electricity and wiring, ditto with the plumbing, roof refitted with extra insulation. Washing machines in both apartments.
The building is well insulated with cork and polistrato insulation blanket.